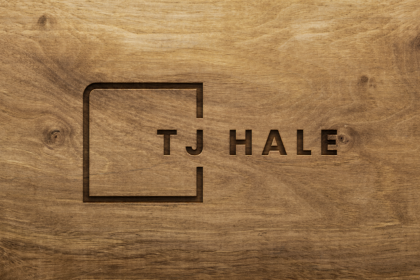 You know TJ Hale as the people who take your spaces and turn them into something magnificent—so we figured it was high time we do that for our brand, too. In business for over seven decades, we have made a name for ourselves as the go-to provider of innovative spacial solutions. Learn all about what TJ Hale stands for as you explore our new website, peruse our full range of capabilities, and view examples of our work from all over the globe.
The history of TJ Hale
Founded in 1950 in Butler, Wisconsin, TJ Hale began as a 3,000-square-foot shop specializing in supermarket interiors and architectural woodworking. Tom Hale, Sr., handled all the drawings, bidding, and expediting. His wife, Dorothy, did the bookkeeping. Their sons, Tom Jr. and Jack, worked in the shop sweeping floors and helping out on weekends and during school vacations.
Between 1960 and 1980, the company experienced a significant increase in business volume, building a new 10,000-square-foot facility to accommodate our growing needs. And we didn't stop there! Taking over for his father in 1977, Jack Hale saw TJ Hale through expansion into multiple industries, including retail, hospitality, restaurants, corporate interiors, and beyond. Though he is retired from his duties as president, he remains an active member of the company's advisory board.
Adjusting to the internet
A lot can change, however, from decade to decade. In the '90s, TJ Hale was actively having to turn away business, but when the internet began to boom, everything changed. Jack had built the company on real relationships, which was no longer how the world was doing business. 
Instead of people automatically calling TJ Hale directly to say, "I want you to do this job," project bidding was happening online and going to the lowest bidder, regardless of what they were able to provide. This "reverse auction" approach meant TJ Hale had to make a major adjustment—and, unfortunately, lost some long-time customers along the way.
Navigating historical roadblocks
Next came the Great Recession in the late 2000s, which made it extremely difficult for the company to retain employees. Up until this point, TJ Hale had focused exclusively on retail spaces, but now was the time to pivot. TJ Hale's CEO, Michael Sharp, made a big push for product diversification.
Through Sharp's expert guidance, the company hit its stride again, creating spacial solutions for a wide variety of industries, including hospitality, entertainment, restaurants, institutional spaces, and more. But no one could have predicted the pandemic curveball that awaited.
From hotels and schools to restaurants and entertainment spaces, the COVID-19 pandemic touched every part of TJ Hale's business. Without a doubt, the worst part was having to go from 106 employees down to 13 for seven weeks in 2020. The intent was always to rehire everyone as soon as possible, but TJ Hale had to be very careful and strategic about how to bring people back.
Rebuilding together
As the world has adapted to the ongoing presence of COVID-19 and life has resumed some semblance of normality, the vast majority of TJ Hale's incredible workforce is back. Currently, we have approximately 90 employees, two-thirds of which were returning from pre-pandemic times.
Over 50% of our employees have been with TJ Hale for at least five years, and 20% have been with us for 15 years (i.e., since before the 2008 recession). Perhaps most astounding is that we have a handful of employees who have been by our side for 30 years! We've even been able to hire 36 new employees post-pandemic through regular recruiting efforts.
Who TJ Hale is today
Our number one goal is still the same simple truth: to make our clients look good. With 120,000 square feet of integrated manufacturing facilities, we support the fabrication of wood, metal, acrylic, and other composite materials in-house, and we can consolidate and ship completed products directly to our client's final destination for immediate installation.
Moreover, we've taken things global by establishing key partners throughout Asia and Europe. In doing so, we've been able to replicate our processes, allowing us to manufacture and install spacial solutions at client sites all around the world.
Our new look
As we look to the future, we believe in always remembering our roots at TJ Hale. You'll see this reflected in different elements of our brand refresh, such as the square icon in our logo. This simple shape conveys two important truths: paying homage to the square of our old logo while simultaneously representing the bespoke spaces we design.
Our new website expands upon our multi-faceted services to give you a crystal-clear picture of what we can do for your business. We've added featured case studies so you can fully visualize how our work transforms spaces into accurate representations of our client's visions. New York City is home to three incredible projects we worked on: the Moynihan Rail Station, the Empire State Building, and a flagship Ray-Ban® store.
The reenvisioning of our brand has served as a crucial moment in TJ Hale's journey. As always, we promise to continue to put our best foot forward. The whole team could not be more excited to welcome this new era for our company. Will you join us?